Hundreds of shirts, caps and jackets were donated today to the Scott Mission of Toronto. These items were no longer required as our sister company K-North, Inc. decided to exit the new machinery business last July. When considering a good home, we consulted with the Mission and discovered that the clothing would be welcome for the poor and homeless they support.

The Scott Mission has been helping the underprivileged since 1941. During that time, this non-denominational organization has helped and cared for many who find themselves needing a helping hand.

"We are very proud and happy to have been able to contribute something useful to these marvelous people", Liana Howard said.

To learn more about the Scott Mission and their work please visit: http://www.scottmission.com.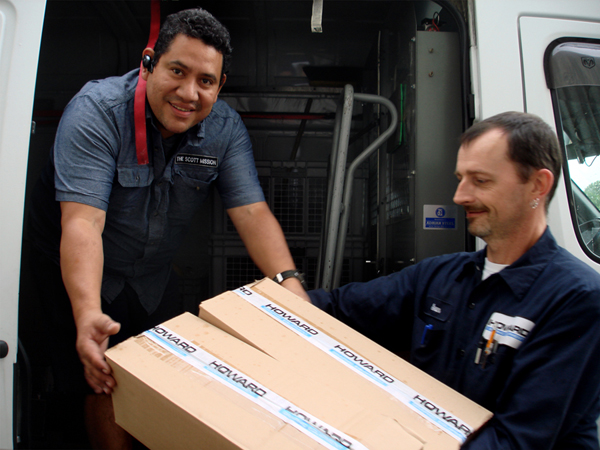 HGE's Sean Cummings (right) helps loading the donated goods onto the Scott Mission's van.
The Howard Iron Works Museum and Restoration facility is a lifelong dream of Liana and Nick Howard. The Howards are custodians of Howard Graphic Equipment Ltd., a company that is a leading edge supplier and rebuilder of printing and converting equipment. The business continues into its 47th year having started in 1967.

Since Nick Howard was a young boy, he has worked in the printing trade. This lifelong vocation continues the tradition of several generations. Liana Howard has been not only involved but instrumental in leading the Howard Group of Companies and shares the same passion. Together they have assembled a diverse and important collection featuring machinery and materials from the period 1830 to 1950. Each piece represents a key building block in the advancement of the printing processes.

HIW was a dream both wanted to see come to life. There are many outstanding museums devoted to printing around the world. These are operated by passionate individuals and have served the arts and creative community for decades. HIW shares this love, but also wanted to utilize the skills of the HGE technicians to completely restore machines to a new level.

Restoration is the key fundamental difference one will immediately notice at the HIW. All machines are completely disassembled, repaired and finished to "As New" condition. That offers another way to enjoy some of the most beautiful machinery ever made - just as they would have been when they left the small workshops of Europe and America. Restoration is the primary difference of HIW.

However, for Nick and Liana Howard, the ultimate goal is even more paramount. Once completed, the HIW will be available for private functions and, most importantly, will begin the Howards' real mission to use the museum for philanthropic purposes.

Please visit HIW's website to view The Collection and visit our Restoration Gallery:



www.howardironworks.org





On June 5, in Cleveland, ASA held a symposium specifically dealing with machinery valuations. Mr. Howard presented an overview of the printing industry version 2013, and outlined the current trends as well as insights on key evaluation criteria. The event was hosted by ASA and included a wide breadth of industry professionals. Lenders as well as the credit sector departs were in the audience.

"The printing sector is not all about newspapers and periodicals", said Howard. "Print reaches a much broader audience than many realize. One look in a grocery store or pharmacy illustrates the enormity of printed products which are still essential. What has changed is the consumer's use or desire for print. Tablets and smart phone devices have eroded some previously print only products and these are not coming back. In fact, anything that can be down-loaded or accessed by a computer will be. This only means new creative uses need to be found to pick up some of the slack."

"The future is never clear - especially for printers. There is overcapacity at the moment, and it will be some time before our industry gets right-sized. But, it will", says Howard.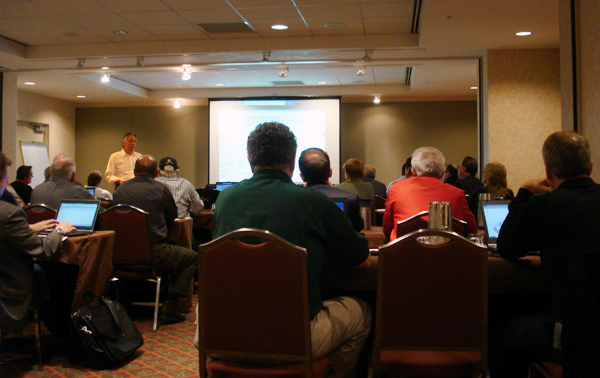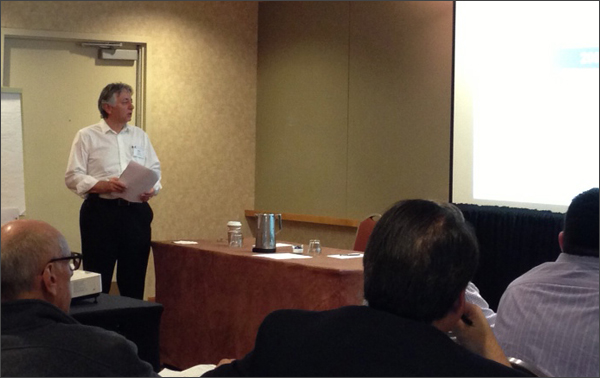 To commemorate the company's 45 years of service to the printing and allied industries, HGE commissioned a special medallion to be presented along with any presses and equipment sold during this anniversary year. The limited edition anniversary medallions are cast in bronze.

Follow the amazing history of Howard Graphic Equipment from the beginning with the story as the company was founded in The Genesis.
On January 7, 2012, friends and colleagues got together to celebrate Francis' 30 years of service. It was a wonderful evening with speeches and several rounds of toasts mixed in with humorous anecdotes of years gone by. Francis started way back on November 11, 1981. At that time, Howard Graphic Equipment worked out of just 4,700 square feet of space. It's fair to say that Francis has been instrumental in the growth of the company.

The growth, from a small number of sales to a business that now encompasses almost 4.000 printing units in over 69 countries, is phenomenal and Francis has seen it all happen. During the course of the successful 30 years, Francis has had the opportunity to travel and meet many of the clients himself which has given him a well tuned perspective of what our machinery means to those who trust in us.

During the dinner, Francis was presented with several gifts including a photo album signed by all the staff, a video presentation, engraved watch as well as celebratory gold coin and cheque.
Click here to watch slideshow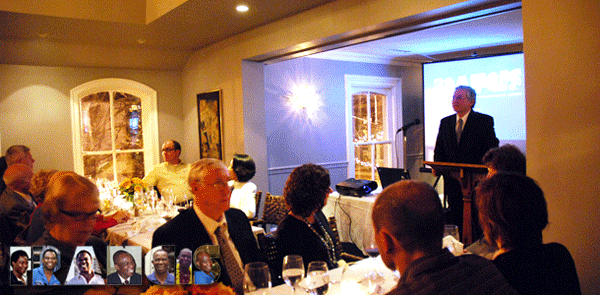 | | |
| --- | --- |
| | 2012 marks HGE's 45th year of continuous service to the printing and allied industry. We are very proud of our accomplishments, and would like to thank our staff, past and present, for their effort and dedication to the company. We would like to extend our special appreciation to our customers for putting their trust in us in the past 45 years. In conjunction with this special milestone, throughout the year, we will be taking you on a journey down the memory lane, and share with you the special moments in the last 45 years. Stay tuned. |
Various shipments to Asia at the end of 2011 closed our 2011 with a bang and certainly set a positive tone for the new year. Among them were a Bobst SP142E, Heidelberg CD102-6-LX, and a late model UV-equipped Komori LS640C. The end of year sales to the domestic and US markets were also strong with the sale of a 4-color and 5-color Komori, and the most recent sale and installation of a 10-color Komori LS1040P. We look forward to an even better year ahead.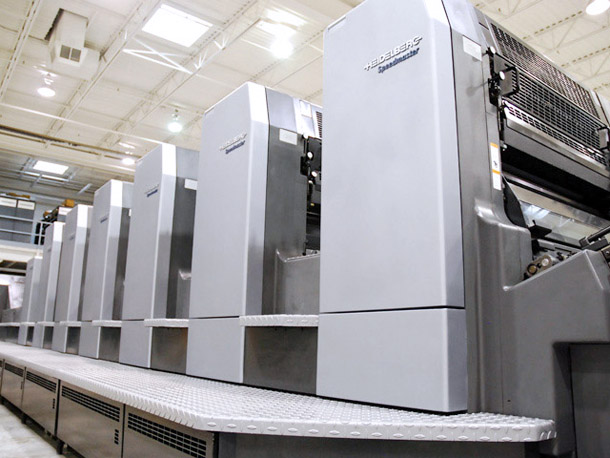 The Mackenzie Printery & Newspaper Museum located in Queenston, Ontario, Canada, is the recipient of a donated Heidelberg "T" platen press from Howard Graphic Equipment Ltd. Commenting on the donation Nick Howard recalls a time not so long ago when the 10" x 15" Windmill was the mainstay of every print shop - large or small. This particular platen was restored by Howard and will take its place among other unique pieces of machinery in the Museum. Watch the slideshow of photographs taken during the delivery of the Heidelberg - CLICK HERE.

The Heidelberg platen is fondly remembered by thousands of shop owners because of its simplicity and flexibility. One could easily print business cards, letterheads, envelopes as well as number, perf and score on this machine. Odd shaped pieces as well as die-cutting could be handled with only minor adjustments. The founder of Howard Graphic Equipment Ltd., Mr. H.W. Howard, was a pressman himself and bought, refurbished and sold many a platen to printers - some of which have grown and purchased other larger machinery, too. In the early days, H.W. and his son Nick, restored and rebuilt many of these machines in various versions, including the later built "GT" larger format platens.

In dedicating the famous Heidelberg platen, Nick Howard along with his wife and partner, Liana, has honoured his father's memory and spirit which gave rise to the company we have today. Please visit the museum to re-live a lasting legacy of Print - www.mackenzieprintery.org

Interesting facts about The Heidelberg Platen
The first platen designed in Köln (Cologne) by a German printer named Karl Gilke - 1912
Gilke sells the patent rights to Heidelberg - 1912
Schnellpresse, as Heidelberg was called, produced the first windmill platen in 1914
The Heidelberger Druckautomat, as it was later referred, became the first print machine to be assembled on a movable assembly line - 1926
In order to distinguish itself from Czechoslovakian copies, Schnellpresse started placing "ORIGINAL HEIDELBERG" crests on its machines - 1950
H.W. Howard, along with many salesmen involved with the platen, starts taking it on the road for demonstrations all over the province of Quebec, Canada - circa 1955
Schnellpresse changes its name to HEIDELBERGER DRUCKMASCHINEN AG - 1967
The last of the famous Heidelberg platens left the Weisloch factory - over 165,000 were made - 1985
The Howard donated platen or Tiegel, as it was called in German, was built in 1974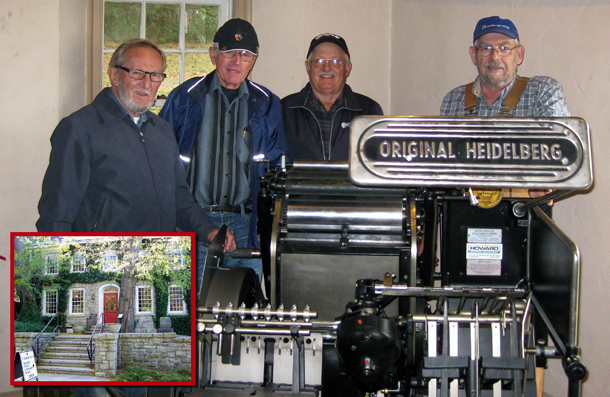 The management and staff of Howard Graphic Equipment Ltd. very proudly announce that one of its own, Mr. Francis Danquah, has reached a 30th year milestone with the company. Starting back in November 11, 1981, Francis has been an integral and respected part of our business. Working up through various departments including the machine cleaning and painting unit, to mechanical assistance, and rigging roles, Francis possesses key attributes all companies look for - ATTITUDE and PERSEVERANCE. A special dinner in honour of Francis Danquah's 30 years of service will be held in early January.

This major accomplishment [30 years] lets Francis join a select club of long standing members and helps to re-inforce the values of Howard Group as one of a family in spirit and practice. Well done, Francis!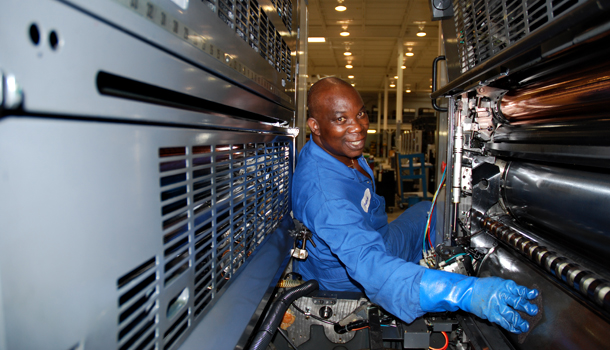 Intermart Printers PVT of Colombo, Sri Lanka, has purchased its second Komori - the 4th press from Howard Graphic Equipment Ltd. Originally a Heidelberg house, Mr. Giri Giritharan made the switch to Komori presses and again chose Howard as its partner. Initially, HGE supplied 7 and 6-colour Heidelberg presses 7 and 8 years ago.

Intermart has now received both Komori presses - a 5-colour L40 and 6-colour LS640 (both with automation and coaters), reconditioned by HGE. Convinced of the quality of the equipment, the first Komori was followed just months later by the second. Our association with Intermart dates back many years and is one of great respect for Mr. Giritharan and his dynamic drive to be the best in Sri Lanka.

WATCH SLIDESHOW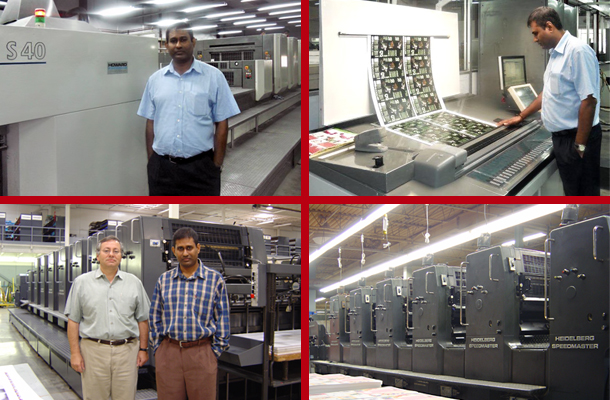 Martino e Vincenzo of Velha, Brazil has taken delivery of a 2005 Heidelberg Speedmaster SM 74-5-P+L. This press is now busy increasing the productivity of the firm and providing much needed print output. The complete purchase, sale, logistics and delivery were handled by HGE.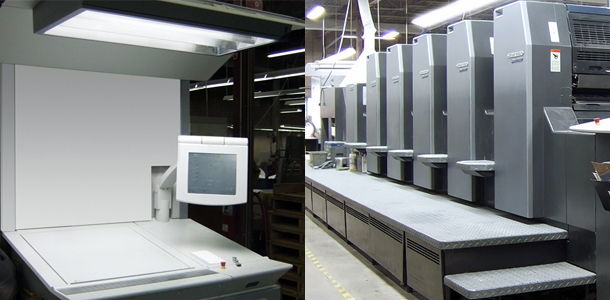 Perhaps many of our clients don't realize, but HGE is and has been adept at supplying a vast array of machines besides sheetfed. To highlight this fact, HGE has just shipped both a Muller Martini NB3-S and NB-5-S to the City of Shanghai, China, as well as a KOLBUS 472 Perfect Binding Line complete with 2 HD trimmers, cooling tower and log loaders to Thailand. These massive machines encompassed 10 shipping containers. All logistics and engineering was handled by HGE.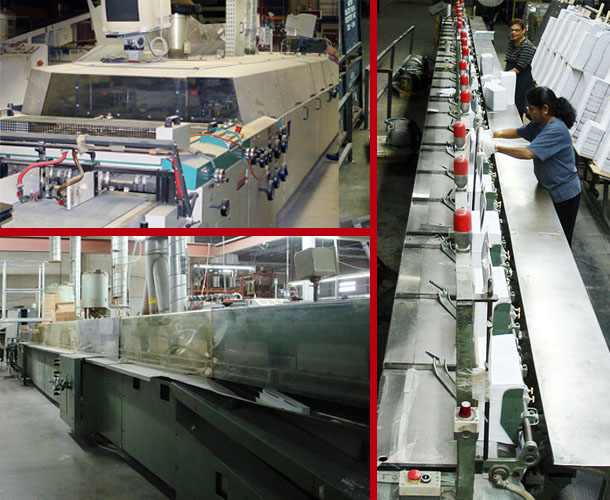 Dalian Printing Company has purchased a late model Speedmaster CD 102-6+LX. The press was supplied and also installed by HGE technicians. Dalian requested full support in getting their press in and running very fast. In a two week period the CD was in, installed and producing which made Dalian very pleased considering they did not have the time to inspect the press here in our Rebuilding Center beforehand.

HGE remains a strong supporter of the Chinese printing industry both in technical support as well as quality machinery.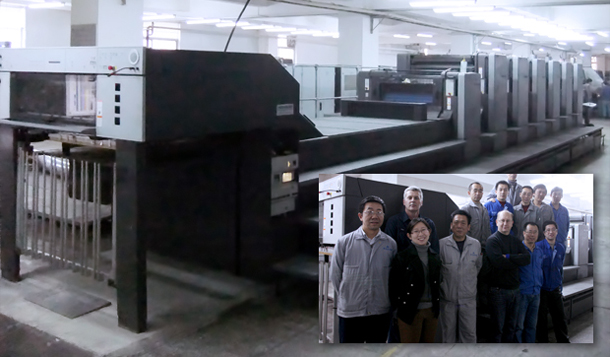 Rayment & Collins has recently purchased from HGE a UV-equipped 6-color Heidelberg CD press. The highly specified press is equipped with full automation, labor-saving features, and the Heidelberg CANopen. HGE also undertook the installation of the Heidelberg at Rayment & Collins' facility in Toronto.

Established in 1989, the company, with Kevin Collins at the helm since 2000, has provided its customers with the full scope of services and capabilities, with a strong focus on brand development and creative marketing. The Heidelberg is the company's first foray into UV printing.
Howard Direct has just recently launched its new mobile website - www.howard-direct.com/mobile . The site has been designed and optimized to provide the users a quick and easy access to our stocklist from their smart phones, tablets and other mobile devices. Full description and photos are always available on Howard Direct website.

The shipment of a 5-color Heidelberg Speedmaster to Lithuania this Summer marked another milestone in HGE's history. Lithuania joined the other 66 countries we have supplied machines to since 1967. With 44 years of business and over 4,200 units sold, we look forward to continue to provide equipment and services to the printing and allied industries.

We are pleased to present the new and redesigned News & Views website. The News & Views serves as the news portal for the Howard Graphic Group of Companies - Howard Graphic Equipment, Howard Direct, and Howard Graphic Appraisals. The new website will feature articles, news and commentaries, and various media presentations. We hope the new News & Views will continue to provide you with inspiration and become the source for printing related knowledge and technology news.